Need button help? You can add it on to your order here: design help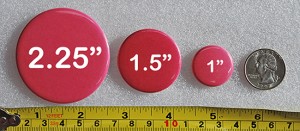 Templates:
Buttons
1″
1.5″
2.25″
2×3″ Rectangle
3.5″
Right click and save as or option click on mac.
Stickers
1.33″
1.80″
2.50″
4.00″
Right click and save as or option click on mac.
Here is some basic info I send to anyone designing a button:
These templates are in Photoshop format. The line in the center is where the edges of the face of the button are and text can be safely displayed. There is also text that will show up tiny around the perimeters on this template – good place for a URL, hashtag, or secret message.
I can handle multiple designs per order, no problem. Just go back and add the qty you need to the cart for each design you upload.
Tutorial Video
Format Do's:
Set file for 300 DPI in
Return as .Psd or Photoshop .PDF
Preserve Layer editing so I may remove the design lines.
Let me know if you need in another format.
Easy-to-read, simple designs are always best.
Make it fun, interesting, unique, memorable, etc.
Format Don'ts:
Low res artwork
Poor quality images
Difficult-to-read text
There are a few different styles I can do including the classic pin back buttons.
Check out design examples of recently made orders by clicking here.