Crockpot Slow Cooker Freezer Cooking
Freezer cooking! Have you heard about this? You spend two days preparing meals for the year to keep in your giant basement freezer so you don't have to think about it later. I've seen blog post on prepping a few meal for a week or a month – But I decided to take it to the next level. How about freezer meals for A YEAR?!?!?! My psychiatrist says this kind of prepping isn't healthy, but my psychiatrist isn't a dietician is he?
The meals can either be fully cooked and just need to be warmed or they can be raw & placed into your slow cooker, all prepped and ready to go when you need them. It saves time, money, and your sanity! I am in school full time, working part time, and still have to maintain my full time mom and wife duties as well. There are some days that I don't even get home with the kids until 6:30 and bedtime is around 7ish. That does not leave much time to cook dinner (and for some strange reason, my kids want to eat every.single.night!). That's where the freezer cooking comes into play. All I have to do is pull a bag out of the freezer the night before and place it in the fridge to defrost.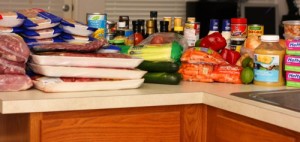 The next morning I dump it into the slow cooker and turn it on. That's it! Dinner (at least the main dish) will be done and ready to serve the minute we walk in the door. (Use the slow cooker liners for super easy clean up too!) How amazing is that?! I loved the idea of it so I started collecting recipes I thought might work for the freezer and that my family would eat. I finally compiled a list of 19 different meals and planned to double each one. Want to make all these recipes for your family? Go HERE for the master shopping list! (I use a 5 qt slow cooker for all of these recipes)